How Much Does It Cost For A Party Bus?
A Party Bus can range in price based on your needs. Sometimes it's even more effective to get a party bus than a limo, as it seats more passengers. A common rate for party bus is $90 to $250 an hour depending on how many people you plan to bring, pick up and drop off location.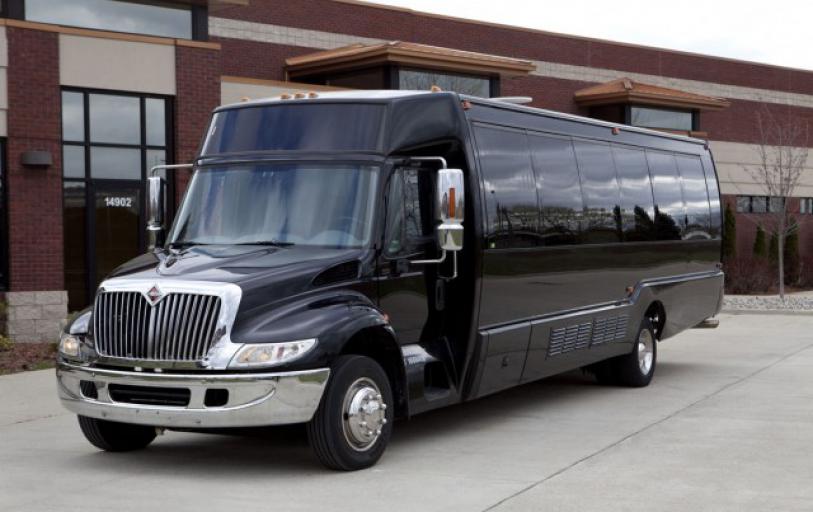 What areas do you primarily serve?
Party Bus San Diego primarily serves the entire San Diego metropolitan area, including communities like La Jolla, Del Mar, Chula Vista, and Carlsbad! Our transportation services also extend to neighboring cities such as Los Angeles, Orange County, Riverside, and more. Whether you're planning a night on the town or a trip to a local attraction like Balboa Park or the San Diego Zoo, our team will ensure a seamless, unforgettable experience.
What types of trips do you service in San Diego?
Our luxurious fleet is perfect for a wide range of events in San Diego, including weddings, proms, birthdays, bachelor and bachelorette parties, corporate events, concerts, sporting events, wine tours, and much more! If you've got a special occasion on the horizon that calls for extraordinary transportation, we've got you covered with sophisticated limousines, spacious party buses, and comfortable charter buses.
Do you offer long-distance charter bus rentals?
Yes, we do! At Party Bus San Diego, we understand that sometimes your travel plans might extend beyond our city. That's why we offer long-distance charter bus rentals for trips within California, as well as out-of-state journeys, allowing you to explore iconic West Coast destinations like Los Angeles, San Francisco, Las Vegas, and beyond.
Can my group travel out of state?
Absolutely! We are more than happy to accommodate your out-of-state travel plans. Charter buses are perfectly equipped for long-distance journeys, providing comfort and convenience to make your trip a memorable experience. From the dazzling Las Vegas Strip to the wine country of Napa Valley, your adventures are limitless with Party Bus San Diego.
Is there a minimum or maximum time I can rent a bus?
Most trips require a 4-hour rental minimum. However, there is no maximum time limit for renting. Our flexible rental options can be customized to suit your specific requirements, whether you need several hours for a night out in the Gaslamp Quarter or multiple days for a company retreat in Palm Springs. Just let us know your requirements, and we'll make sure your transportation needs are met.
How much does it cost to rent a party bus, limousine, or charter bus in San Diego?
Rental costs vary depending on several factors, such as the type of vehicle, duration, and distance of your trip. To give you an accurate quote, we encourage you to call our friendly reservation specialists or fill out the online form for a customized quote. We guarantee competitive pricing and exceptional value for our top-notch fleet and professional service.
How far in advance do I need to book my Party Bus, Limousine, or Charter Bus?
We recommend booking your Party Bus, Limousine, or Charter Bus rental at least one month in advance to ensure availability and the best selection of vehicles. During peak seasons or for popular local events, such as San Diego Comic-Con, demand for our services increases, so we suggest securing your reservation even earlier to guarantee your preferred vehicle and date.
What types of vehicles does Party Bus San Diego offer?
Our diverse fleet comprises various luxurious and comfortable vehicles, including stretch limousines, party buses, and charter buses. Choose from our stunning selection to find the ideal vehicle for your special occasion.
Do you have ADA-accessible buses available?
Yes, we do! We understand the importance of providing accessible transportation for all our clients, so our fleet includes ADA-accessible buses equipped with wheelchair lifts and other necessary accommodations. Please inform our reservation specialists about any specific accessibility requirements when booking, and we'll make sure to accommodate your needs.
Can we bring alcohol onto the Party Bus or Limousine?
Alcohol consumption is allowed on our Party Buses and Limousines for passengers who are of legal drinking age (21 and older). We want to ensure that everyone has a fun and safe experience, so please drink responsibly.
Can the Party Bus or Limousine stay out after midnight?
Of course! Our vehicles and chauffeur services are available 24/7 to cater to your transportation needs. Whether you need a luxurious ride back home after a late-night concert at Petco Park or an extravagant limousine for an all-night bachelorette party, our team at Party Bus San Diego is at your service!
How many people fit in the Party Bus, Limousine, or Charter Bus?
Our luxurious vehicles can accommodate various group sizes. Our stretch limousines can comfortably seat 8-12 passengers, while our party buses can accommodate 20-40 passengers, depending on the specific model. For even larger groups, our charter buses can seat up to 56 passengers. Just let our reservation specialists know the size of your group, and we'll find the perfect vehicle for you.
What will we pay if we go over our allotted time?
If your event extends beyond your reserved time, additional fees may apply based on the pro-rated hourly rate for your specific vehicle. Our reservation specialists will provide you with detailed information on any potential overtime charges when booking, so you can make an informed decision and avoid any surprises.